05 June 2017
With the SSE Airtricity League reaching it's halfway stage, check out which Colleges and Universities players left the biggest impression before they jet off on their holidays
Notable Appearances
CSN forward Chiedozie Ogbene thrust his Limerick side into an early two goal lead against Bray in an eight-goal classic. Ogbene's second goal was the conclusion of great team play from the Munster side.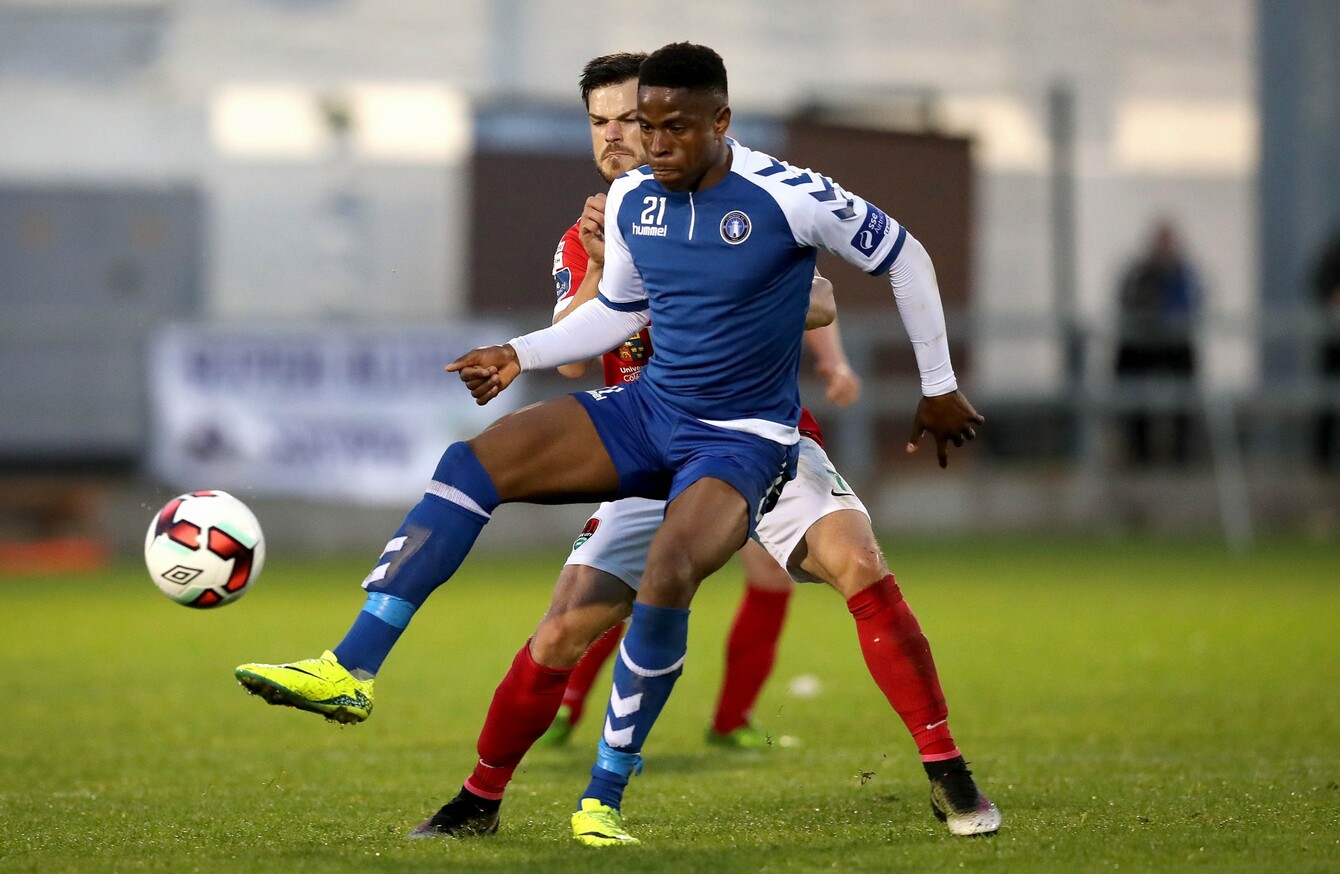 Limerick & CSN striker Chiedozie Ogbene in action
In an action-packed game in Stradbrook, the game hinged on the sending off of Cabinteely's keeper Michael Kelly on 72 minutes with the home side leading 3-1 with DIT's Joe Doyle having one goal of the trio.
On 80 minutes, Jason McClelland equalised for the Belfield side just minutes after Georgie Kelly grabbed his second of the evening.
36 Starting Appearances
Ross Mann (Cobh Ramblers/Limerick IT) Jamie McGrath (Dundalk/Maynooth University) Maxim Kouogun (UCD AFC/UCD) Dylan Kavanagh (Shelbourne/Maynooth University) Michael Kelly (Cabinteely/Maynooth University) Conor Barry (Athlone Town/NUI Galway) Daniel Tobin (UCD AFC/UCD) Conor Sutton (Wexford/DCU) Darragh Markey (St. Patrick's Athletic/Maynooth University) David Brookes (Athlone Town/Athlone IT) Jason Lyons (Athlone Town/Athlone IT) Georgie Poynton (Bohemians/Dundalk IT) Fuad Sule (Bohemians/Maynooth University) Darragh Noone (Bray Wanderers/Dublin IT) Karl Byrne (Cabinteely/IT Blanchardstown) Conor Keeley (Cabinteely/Griffith College) Christian Lotefa (Cabinteely/Dublin IT) Joe Doyle (Cabinteely/Dublin IT) Jack Watson (Cabinteely/DCU) Matthew Whelan (Cobh Ramblers/Colaiste Stiofain Naofa) Ian Mylod (Cobh Ramblers/UCC) Craig Donnellan (Cobh Ramblers/UCC) Stephen Dunne (Drogheda United/Maynooth University) Chiedozie Ogbene (Limerick/Colaiste Stiofan Naofa) Rory Feely (St. Patrick's Athletic/DCU) Georgie Kelly (UCD AFC/UCD) Liam Scales (UCD AFC/UCD) Niall Corbet (UCD AFC/UCD) Jason McClelland (UCD AFC/UCD) Greg Sloggett (UCD AFC/UCD) Gary O'Neill (UCD AFC/UCD) Josh Collins (UCD AFC/UCD) Daire O'Connor (UCD AFC/UCD) Matthew Connor (Waterford/Waterford IT) Anthony McAlavey (Waterford/IT Carlow) Mark Slater (Wexford/Maynooth University)
10 Substitute Appearances
Ryan Gaffey (Athlone Town/Moate Business College) Jack Menton (Cabinteely/Trinity College) Reece McEnteer (Shelbourne/Dundalk IT) Jack Tuite (Shelbourne/Inchicore College of FE) Ben Hanrahan (UCD AFC/UCD) Jonny Bonner (Finn Harps/IT Carlow) Conor Melody (Galway United/NUI Galway) Kaleem Strawbridge-Simon (Bohemians/Dublin IT) Craig Hayes (Wexford/Waterford College of FE) Padraig Cunningham (Galway United/GMIT Galway)
12 Unused Substitutes
Michael Scott (Cabinteely/IT Blanchardstown) Adam Harney (Cabinteely/Dublin IT) Michael Sadys (Cobh Ramblers/Cork IT) Jamie Hollywood (Drogheda United/IT Blanchardstown) Garbhan Coughlan (Limerick/UL) Jack Brady (Longford Town/DCU) Daniel Devine (Shamrock Rovers/IT Tallaght) Jackson Ryan (Shelbourne/Maynooth University) Sean Coyne (UCD AFC/UCD) Conor Kearns (UCD AFC/UCD) Gareth Coughlan (UCD AFC/UCD) Jack Lynch (Waterford/UL)

7 Goals
Georgie Kelly (UCD AFC/UCD) <2 Goals> Chiedozie Ogbene (Limerick/Colaiste Stiofan Naofa) <2 Goals> Joe Doyle (Cabinteely/Dublin IT) Ian Mylod (Cobh Ramblers/UCC) Jason McClelland (UCD AFC/UCD)
5 Yellow Cards
Georgie Kelly (UCD AFC/UCD) Darragh Noone (Bray Wanderers/Dublin IT) Craig Donnellan (Cobh Ramblers/UCC) Mark Slater (Wexford/Maynooth University) Jack Tuite (Shelbourne/Inchicore College of FE)
2 Red Cards
Michael Kelly (Cabinteely/Maynooth University) Christian Lotefa (Cabinteely/Dublin IT)
« Go Back